Oh my goodness! Let me tell you what an adventure it's been trying to find the right size Q crochet hook! It all started with a blanket pattern that calls for a Q hook. Although I have crochet hook acquisition syndrome, I don't have this size in my collection…yet. So, I set out online to find one. Here's what I've learned in a nut shell- You can buy a Q crochet hook in mm in 3 different sizes: 15mm, 15 3/4mm, and 16mm.
Okay, so now we are faced with the question- which one is the correct Q size to buy and use? Oh, for the love of yarn and sanity- why give us 3 options?? Thankfully, the Craft Yarn Council has set standards when it comes to crochet hook sizes. So, they'll be our defacto reference in solving this mystery.
Let's take a look at their chart to confirm the correct size of a Q hook –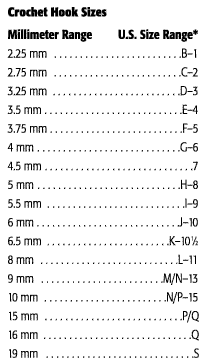 The first thing I notice is that the P-16 (11.5mm) size is missing from the chart. Oh you didn't know? Yea, there's also 3 different P size crochet hooks too lol! As you can see, one of those P size hooks is a P/Q (15mm). The other Q size crochet hook is 16mm, and this answers our question! The 16mm is the standard correct Q crochet hook in mm to use.
The P/Q 15mm size will be labeled either as a P/Q or Q-19, and here are a few I found:
Did you notice how the Q 15-3/4mm or 15.75mm crochet hook size isn't even on the chart above? I have no idea the reason behind this Q size, but it is size the Boye Q hook comes in. Here are the hooks I came across for this size:
The last time I checked, the Boye Crochet Dude Plastic Crochet Hook Set was available on Amazon for $3.16 – Which does make it an incredible deal for 3 hooks!  I also love crocheting with bamboo hooks, and after reading the reviews on Amazon for the ChiaoGoo bamboo hook above, I'll definitely be adding it to my hook stash soon!
Alright, let's take a look at the options for the Q 16mm crochet hook since this is the industry standard Q size. Here are two I found:
And then, I found this beauty! Oh, just look at it in all its natural beauty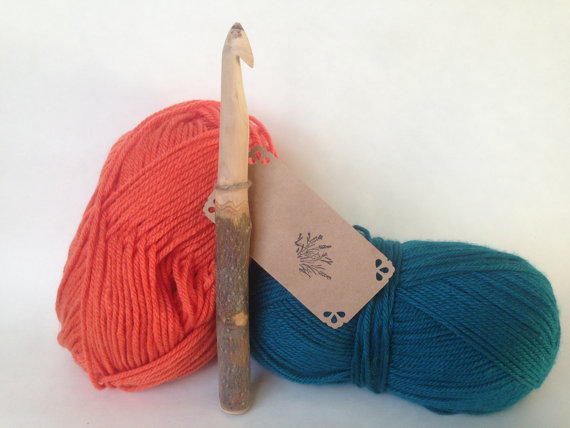 I neeeeed this hook! It's a handcrafted Q 16mm crochet hook made by The Hay Farmer's Wife that can be purchased on Etsy here.
I hope this article helped you with all your questions you had about the size Q crochet hook!